During this motorcycle trip we ride through sparsely populated Namibia, discover spectacular Etosha wildlife park, the rugged Skeleton coastline and see a part of the two thousand kilometers of sandy desert. We also visit the striking Himba tribes,

We ride on gravel, sand and asphalt roads. On the way we spot a lot of animals and we stop regularly to admire the special untouched rugged nature of Namibia. In Etosha National Park we make a safari along water holes where lions, giraffes, elephants, but also many birds drink and bathe. In the sand desert we have a chance to find the unique desert elephants. Of course during sunrise we look at the beautiful intense red to pastel yellow endless dunes of Sossusvlei. We see the peaks and gorges of the Naukluft Mountains.
Northern Nambia, Kaokoland is home to the Himba, one of the last nomadic tribes in Africa. In the village we meet women with ocher-red skin and hair that is stiff from the goat fat. Their houses are beehive-shaped and are made of branches, mud and manure. Cowhides on the floor serve as a sleeping place for the children, on the other side is the mother's bed.

Namibia is one of the youngest countries in Africa, it has been independent since March 21, 1990. Namibia was a German colony from 1884 to 1915. After World War I, the area came under British rule for several years. In 1921, the Union of South Africa received a mandate from the League of Nations to temporarily administer Southwest Africa. This mandate was lifted by the United Nations in 1966. South Africa refused to withdraw, however, and continued to occupy the area. On February 28, 1994, the Walvis Bay enclave was transferred as the last area from South Africa to Namibia. Namibia is now stable and peaceful.
During this exciting motorcycle tour through Namibia we discover the natural treasures, we get to know the Himba tribes and enjoy the enormous animal kingdom.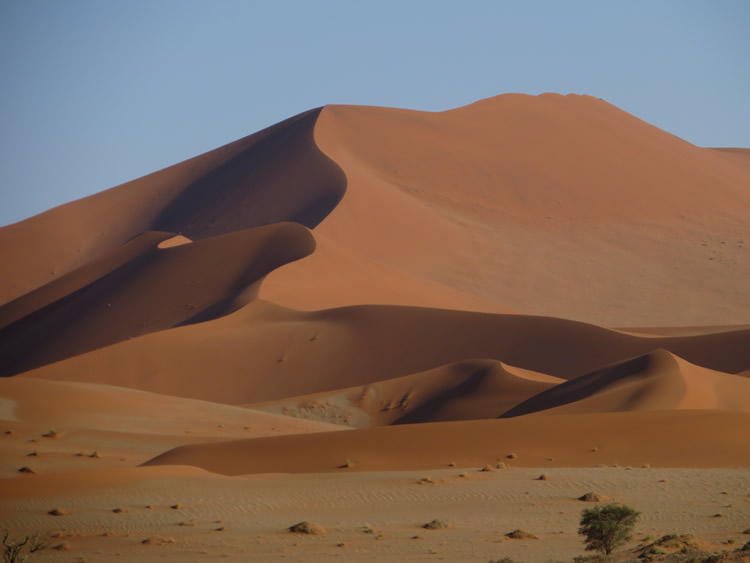 Tourdetails

Tourcode:

NAM

Category:

Adventure

Group size:

6 - 12

Days:

16

Price:

From 0,-
departures

Tourcode

Departure

Status
Routemap