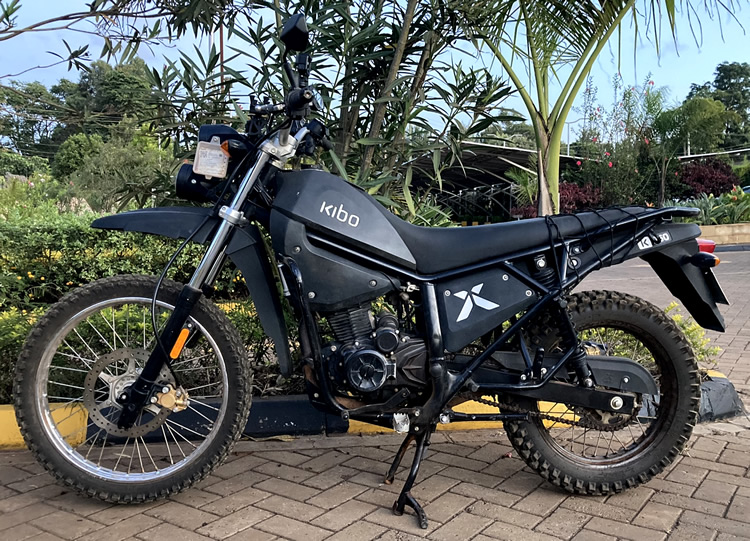 MOTORBIKES
During this trip you ride on a Kibo 250cc.
TOURLEADER
This trip will be led by our international English/Dutch/German speaking guide on a motorcycle.
SUPPORT VEHICLE
A support car will accompany this trip starting from 4 participants This will be driven by our permanent local driver. The support vehicle will transport the luggage, spare parts and tools. There is space in the support car for any companion passengers who do not wish to or cannot double up on a motorcycle.
DIFFICULTY AND OFFROAD
The altitude reached during this tour through Kenia and Tanzania isn't really worth a mention. Daily distances are not very long. There is enough time for photo opportunity stops on route and for visits to villages. This tour is suitable for all healthy motorcyclists. We ride on asphalted main roads and frequently follow a variety of narrow routes off the beaten track. About a third of the route is on unpaved roads. These vary from hard-packed gravel roads to small dirt tracks in thick bush. The unpaved roads are not difficult but we recommend having basic off-road skills.
ACCOMODATION
During this tour, we stay in comfortable hotels or resorts. We will spend a few nights in tent camps. Some hotels are basic family run places. Breakfast is included in most but not all places.
CLIMATE
There is a big climate difference between Tanzania and Kenya particularly between Northern Kenya and the Tanzanian plains. Northern Kenya is mountainous and has a bit more rainfall. The temperature fluctuates mostly between 25 and 30 degrees throughout the year, depending of course on altitude.
CLOTHING
Compulsory items are a helmet, an armoured motorcycle jacket, gloves, good quality armoured motorcycle trousers or pants with loose knee-armour, and sturdy, high (mountain) boots. It is also useful to have a good pair of sunglasses, lip balm and sunscreen, and a helmet with a visor or a good pair of glasses that also protects against the dust on unpaved roads.
INSURANCE
The motorcycles have a basic, compulsory third-party liability insurance. However, since most countries in Africa are not used to the concept of insurance, things often need to be resolved on the spot.
VISA
Visa requirements apply to both Kenya and Tanzania. You need to apply for the Kenyan visa online to get the e-visa. At the border you can purchase the Tanzanian visa.
Tourdetails

Tourcode:

TAN

Category:

Adventure

Group size:

6 - 12

Days:

22

Price:

From 4.995,-
Routemap